Who are the Sunderland Parent Carer Forum?

First and foremost,  we are all parent carers or grandparents of children and young people who have a special education need and/or disability; we voluntarily run the forum in our spare time. 
We are a parent led, voluntary group of parents, carers and grandparents of children and young people (CYP) aged 0-25 with SEND (special educational needs and disabilities);  our CYP have a variety of SEND.
♦ Our aim is to give parent carers a voice in how services for CYP with SEND are shaped and delivered in the City of Sunderland, as well as an opportunity to come together and talk in a relaxed atmosphere.
♦ We do this by organising events, coffee mornings, information sessions and training events.  Our parent reps attend meetings with various organisations in health, education and social care, as well as local charity groups.
♦ SPCF are one of 152 parent carer forums in England who are members of the National Network of Parent Carer Forums; the NNPCF has 9 regions, and we are part of the North East & Cumbria Region PCFs.
♦ Our parent reps attend regular regional meetings; the regional chair person regularly attends meetings in London, currently virtually!.  Parent reps also get the opportunity to attend regional and national conferences.
♦ Everyone on the steering group is a parent rep, but some also have additional roles such as chair person. We arrange training for new parent reps if required, and buddying up with more experienced members.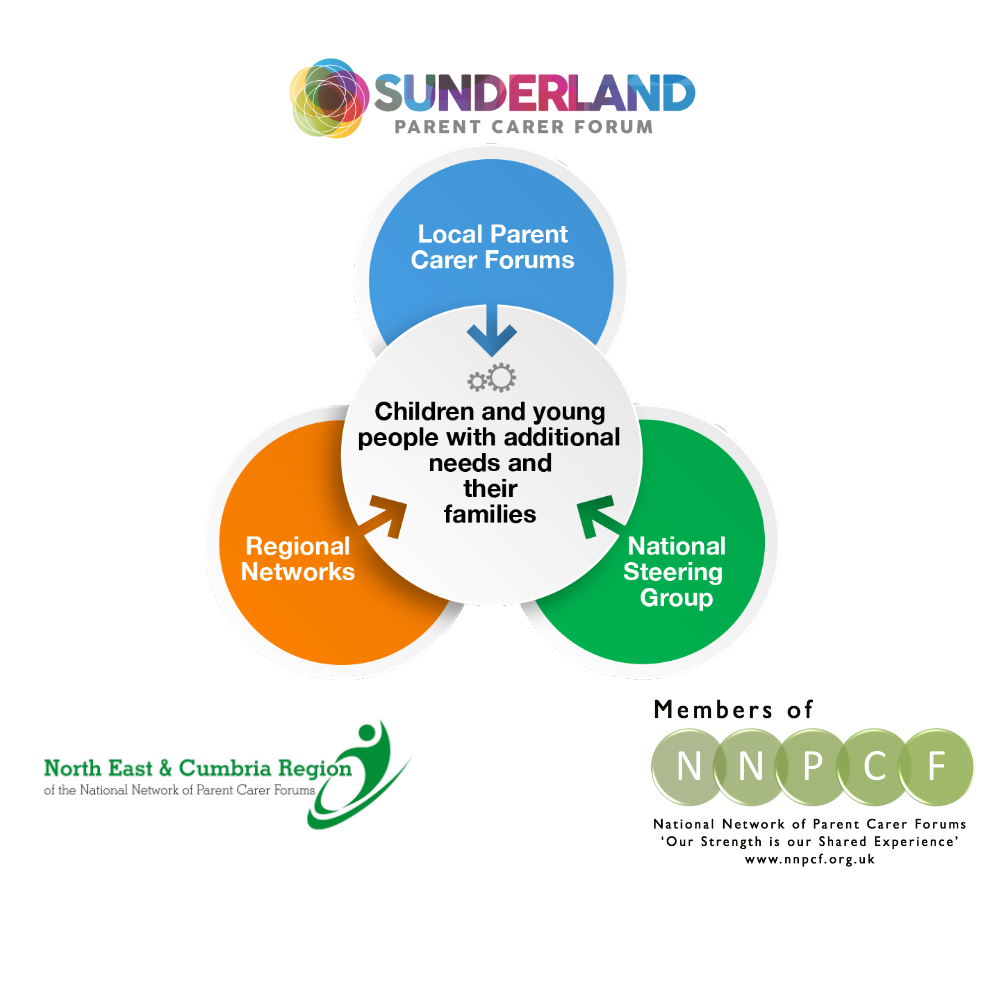 Sunderland Parent Carer Forum are part of the NE & Cumbria Regional Parent Carer Forum (13 forums), and we are all part of the National Network of Parent Carer Forum, which consists of over 150 forums all over England.  We meet regularly with other forums in the region, for support, advice, training opportunities and news about what is happening in the area.  Each region has a national rep, who attends meetings in London, feeding back what is happening in their region, and bringing back the latest news and developments to the region. Every year there are regional and national conferences that forum members are invited to attend, giving us all another chance to catch up with parent carers from around the region and country.
This means that parent carers in Sunderland can, and do influence SEND services locally, regionally and nationally.